HubMail: Answering Your 49ers and NFL Questions with Travis Hawkins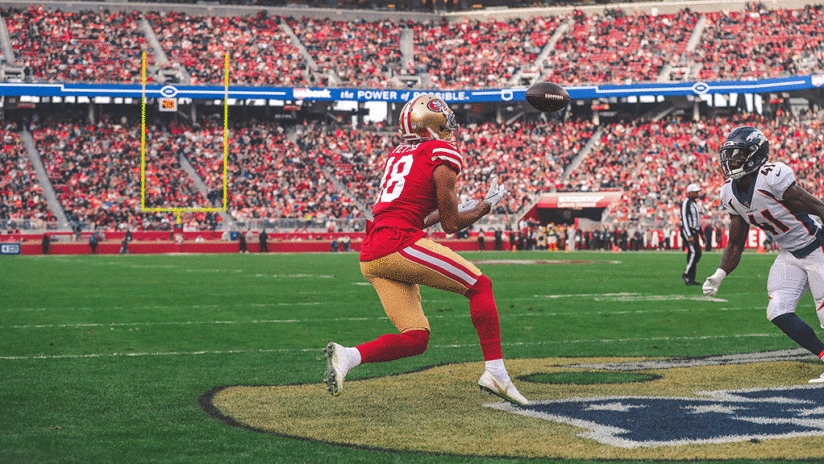 Image Credit: 49ers Media
The free agency period is like Christmas for NFL general managers as they look to get all the items on their list. For John Lynch, Earl Thomas is his Red Ryder BB gun, and like the character "Ralphie" in the movie A Christmas Story, he should not let anything stand in the way of getting the top item on his list. Edge rusher should be item 1B on his list, however, the top guys are not likely to reach free agency, but if for some reason people in Kansas City or Dallas can't figure out how to use a fax machine and Dee Ford or DeMarcus Lawrence hit free agency, they would be prime targets as well. Outside of the top tier guys, Eagles defensive end Brandon Graham should be a prime target.
Mike McGlinchey is poised to become a Pro Bowl right tackle and Fred Warner will look to build on good rookie seasons, but the player who is best positioned to make the biggest jump from Year 1 to Year 2 is Dante Pettis. Pettis really started to come on at the end of 2018 and play like a number-one wide receiver and with a season's worth of experience, an off-season's worth of added muscle and a healthy Jimmy Garoppolo throwing him passes, Pettis should see a big improvement in Year 2.
Where Antonio Brown plays football next season will be the topic de jure until he is traded, or the trade deadline passes, so what are the odds that he is playing in red and gold next year? In the 49ers' favor is the fact that they reside the NFC (meaning the Steelers would only have to face Brown once every four years or in the Super Bowl), and the 49ers have the cap space to absorb Brown's salary prior to March 17 when his $2.5 million roster bonus is due. Not in the 49ers favor is that Antonio Brown has been openly flirting with the 49ers on social media, and given the circumstances surrounding the potential parting would the Steelers be inclined to send him to his desired destination? The 49ers and Steelers play each other once every four and 2019 happens to be that year, so would that affect the Steelers' thinking? And if they decide to trade Brown the Steelers will be looking for maximum compensation and there are teams in the NFL with more draft capital that could put together an offer that might be more appealing to the Steelers than what the 49ers could offer. Taking everything in to account, I would put the chances that the 49ers land Antonio Brown at 40 percent.
Zack hits the mail bag with a two-part question, well played sir. To answer the first part of your question, I don't feel that hiring Joe Woods as the defensive backs coach/passing game coordinator was done as insurance in case Robert Saleh struggles. If 2019 goes completely off the rails and Saleh is fired midseason then Woods would be the logical candidate to take over on an interim basis, but I don't see him being the first choice as a long-term replacement in that scenario. I think it was smart on Shanahan's part to bring in someone that has defensive coordinator experience to be a sounding board for Saleh heading into his second year as defensive coordinator.
As to the second part of your question, the addition of Kris Kocurek as defensive line coach will be a major upgrade and could be the best thing for Solomon Thomas in his young career. Kocurek has the reputation of being a no-nonsense, high energy coach who wants his line to be aggressive and get after the quarterback. Kocurek has a knack getting the most out of players rotational players like Kerry Hyder, who played 17 (two starts) games with eight sacks under Kocurek, or George Johnson, who had six of his 8½ career sacks under Kocurek. It's not just rotational players that excel under Kocurek; he has also developed players like Ndamukong Suh, Cliff Avril, and Ziggy Ansah, who is a free agent and could be on the 49ers' radar.
You can follow Matt on Twitter here!
Stay tuned to 49ersHub for more great 49ers and NFL analysis!