HubMail: Answering Your 49ers and NFL Questions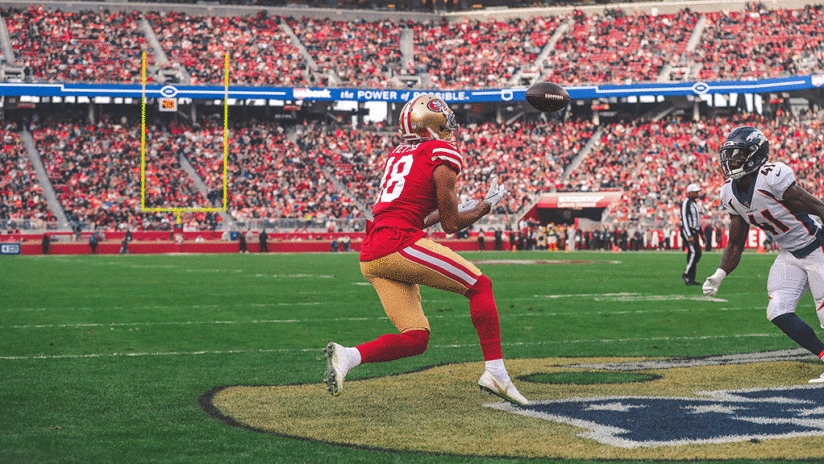 Image Credit: 49ers Media
Welcome to the first mail bag of the 2019 offseason. The San Francisco 49ers may not be playing in the Super Bowl this year but that does not mean there isn't news to be covered. We asked you to send in your questions and you all did not disappoint. Let's get to it.
Let's start with the elephant in the room. Nearly every fan's heart was a-flutter after George Kittle, Richard Sherman and Antonio Brown were flirting on Twitter on New Year's Eve. Brown continued by following numerous 49ers' players on various social media platforms. Jerry Rice did his best to douse the fire with gasoline after speaking with the All-Pro WR and proclaiming that he wanted to play in San Francisco.
Now to the matter at hand: Will the 49ers make a play at AB? I think we're all familiar with the phrase "due diligence" as John Lynch has used it on multiple occasions referring to blockbuster trade deals. I believe that Lynch and Co. will do their homework and determine that Brown is worth a set amount. Luckily, it seems as if the Steelers are not getting the offers they might have hoped to receive. All of this said, the Steelers hold all the power in this situation. Brown is under contract and they have already proven they are willing to wait out a player that does not want to honor his John Hancock. With Brown outwardly professing his desire to play for the 49ers, it is possible that the Steelers will cross San Francisco off their list, regardless of what they offer. This is not an unprecedented action for a team to take.
Another phrase 49ers' fans are accustomed to by now is "aggressively prudent." This strategy has shaped how the front office and coaching staff have approached their first two rounds of free agency. However, this year's crop is much different than the past two. I believe that with limited draft picks, Lynch and Shanahan will be very aggressive in getting the players they believe will fit their system and locker room. It is much too early to be making any predictions for which players they will target with any certainty. Teams still have the ability to sign their own free agents and apply the franchise tag if they deem necessary. In the coming weeks, the landscape of free agency will become much clearer.
Ready for some good news? Jimmy Garoppolo is throwing again. Not only that, he's throwing with Jerick McKinnon. Jimmy and the Jet are both coming off torn ACLs and if there was ever luck in such a gruesome injury, it's that they both suffered them early in the season. I do not foresee Garoppolo or McKinnon missing any regular season time. They may come back a little rusty but hopefully all of that can be knocked off in training camp and the preseason.
In my eyes, Jimmie Ward is as good as gone. He is one of the few holdovers from the previous regime and has not found a home in Robert Saleh's defense. His inability to stay healthy has been a major contributing factor to that. A safety in college who transitioned to corner then back to safety then back to corner, Ward was on the short end of the stick as he played for multiple different head coaches and defensive coordinators that could not properly utilize his strengths. Ward may experience a career resurgence but the likelihood of that being in San Francisco are slim to none.
Mock drafts three months before the NFL Draft are fun but mostly useless. There is so much that will change between now and when the Arizona Cardinals are on the clock on April 25. Kyle Shanahan and his staff are still coaching college players in the Senior Bowl. Once the scouting combine and players' pro days come to pass, the picture will be much more clear. There is no question that the 49ers need help in their secondary. They will still have free agency to address that issue before the draft starts, as well. I wouldn't stress over what players are being mocked to San Francisco in January.
You can follow Matt on Twitter here!
Stay tuned to 49ersHub for more great 49ers and NFL analysis!