What Does Dante Pettis' Improvement Mean For The 49ers?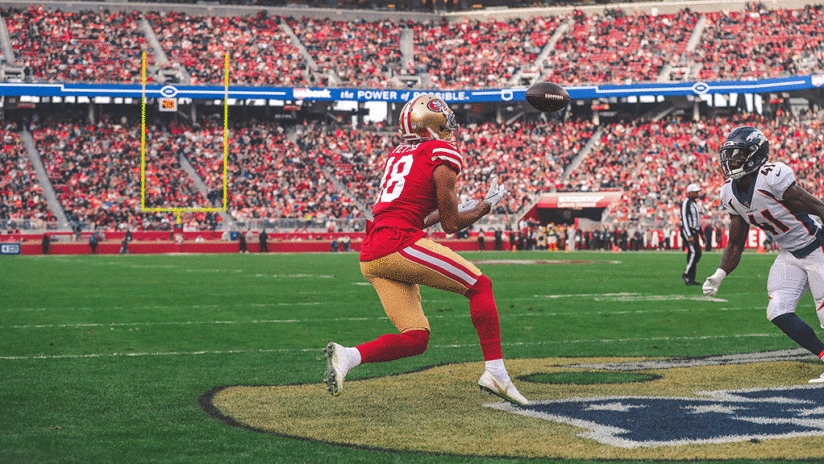 Image Credit: 49ers.com
"Chance to become [an] NFL starter." That was the draft grade given to Dante Pettis based on the grading scale used at NFL.com. When the San Francisco 49ers traded up 15 spots in the second round of the 2018 draft to take Pettis with the 44th overall selection, they felt there was more than a chance he would become a starter.
The 49ers needed to upgrade their receiving corps, plain and simple. A year ago, Pierre Garçon was brought in to be the "go to guy" and through eight games was on pace for a 1,000-yard season before his season was cut short by a neck injury. Marquise Goodwin got the bulk of the work following Garçon's injury but got little help from Garçon's replacements. The 49ers started journeyman Louis Murphy in seven of the final eight games of 2017; a year in which their wide receivers caught only seven touchdown passes.
At the University of Washington he showed flashes of potential early, but it was his junior season that was his breakout season, scoring 15 touchdowns and averaging 15.5-yards per reception. As the main focus of opposing defenses his senior season, Pettis' numbers slipped a bit, but he had already put himself on the map as a playmaker and displayed a particular set of skills that would endear him to Kyle Shanahan. Shanahan has specific traits he values in wide receivers, and the trait he places above all others is the ability to create separation at the line of scrimmage. To Shanahan, creating separation at the line of scrimmage is a key because it can lead to great opportunities for a run after the catch, and that is what drew his attention to Dante Pettis. Pettis has a unique gait when he moves plus quick feet which allow him to disguise the breaks in his routes and set defenders up forcing them to take false steps and become out of balance.
Pettis is just as slippery when the ball is in his hands; he holds the NCAA record with nine career punt returns for touchdowns. Every bit of Pettis' elusiveness was on display during training camp in 7-on-7, 1-on-1 drills and even in his debut against the Vikings in Week 1. After some early flashes Pettis' rookie season got a little bumpy. He missed three games due to injury and was all but invisible in another: on Monday Night Football against the Giants, a game in which Pettis caught 4 passes for 12 yards, the cameras caught a very candid one-way conversation between Pettis and his head coach.
Whatever words of wisdom Kyle Shanahan had for Pettis on the sideline during Monday Night Football, they worked. In the four games since, Pettis has caught 17 passes for 338-yards and 4 touchdowns; a pace that over 16 games would produce a stat line of 68 receptions 1,352 yards and 16 touchdowns.
The development of Dante Pettis is a key for the future prospects of the 49ers as Shanahan can look forward to all of the complementary pieces of his offense take the field together for the first time. The rise of George Kittle to the ranks of elite NFL tight end has been one of the few bright spots in this down year. Like Pettis this season, Kittle had begun to show flashes of what he was capable at the end last season. Despite his consistent play this year, it wasn't until the second half of his 210-yard performance against Denver that a team made Kittle the primary focus of its defense. Until defenses are forced to honor someone else, Kittle will continue to see an outsized proportion of attention.
Marquise Goodwin was signed as a free agent last year to be the receiver that forced defenses to alter their coverage and keep them honest. In 2017, for the first time in his career, Goodwin looked like a legitimate NFL receiving threat; he set career highs in receptions and yards, and if not for a concussion sustained on a questionable hit in the final game of the year, Goodwin would have surpassed the 1,000-yard mark. This season has been a completely different story for Goodwin who has missed four games due to a combination of nagging leg injuries and significant personal family issues. As likable as Goodwin is for off-the-field reasons, it would be difficult to count on him going forward, a fact that has not been lost on the 49ers' coaching staff in recent weeks; since returning to the team Goodwin has been usurped by Dante Pettis.
Pettis will continue to get meaningful snaps over the final two weeks of the season against playoff-bound competition, which will only aid in his development; his real growth, however, will come in the offseason. Pettis will need to add muscle to his lanky 186-pound frame and whether he continues at the Z receiver in place of Goodwin or takes over the X receiver in place of Garçon (who will almost assuredly be released this summer), the 49ers will need to add a receiver in the upcoming draft. The improvement Pettis has shown from Week 1 through Week 15 gives rise to thoughts of the nightmare opposing defenses could be facing when Shanahan has a healthy Garoppolo under center, with Jerick McKinnon, George Kittle and Dante Pettis at his disposal.
You can follow Travis on Twitter here!
Stay tuned to 49ersHub for more great game day analysis!