Film Room: 49ers Training Camp Observations
Football is back! The 49ers have officially started the 2018 season, and we have some new football to talk about. Now, it's just practice (yes we're talking about practice) so we don't want to overreact to anything we see in one-on-ones. I have a few clips that I want to break down from the one-on-ones. So let's overreact!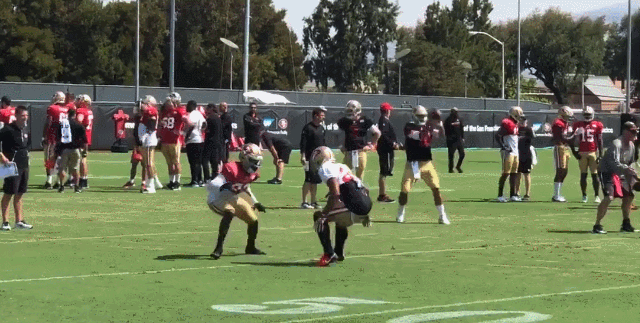 First clip is rookie wide receiver Richie James going up against veteran slot corner K'Waun Williams. James seems to be a fit for the slot receiver position so it makes sense he is going up against the 49ers' best slot cornerback. James shows off a nice move against Williams and uses his quickness to get open. Jimmy Garoppolo makes an on-time throw to the young receiver who makes a nice catch.
Rookie second-round pick Dante Pettis has been turning some heads in one-on-ones so far in camp. He's shown a knack for getting open one-on-one against any of the 49ers' cornerbacks. This clip is no different. He even calls for the ball Randy Moss-style before he is even open, showing the confidence he has in his speed to run by cornerbacks. Pettis does a nice job with his release against cornerback Tyvis Powell, and uses his quickness to run by him. So far in camp Pettis has been a star during this drill but needs work in both 7-on-7s and 11-on-11s. In this one-on-one drill it's all about route running and speed, which Pettis has plenty of.
Let's not forget about veteran wide receiver Pierre Garcon, who got hurt midway through the 2017 season and missed the magical five-game stretch to end the season with new franchise quarterback Jimmy Garoppolo. Week 1 in Minnesota will be the first time that the two will be on the field together. The first few days in camp the duo didn't connect on a single pass. It seems they have started to get the connection going in day 3 and beyond. In this clip we see a nice over-the-shoulder throw to Garcon in stride, with a step on the cornerback after using a nice veteran arm bar to gain the separation.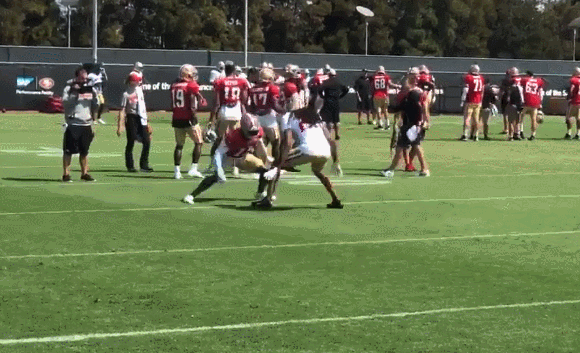 This is the clip everyone is talking about: wide receiver Marquise Goodwin running by veteran cornerback Richard Sherman. This is nothing to worry about regarding Sherman, his game was never speed. If this was a real game scenario where Sherman was one-on-one with a receiver with Goodwin's speed, Sherman would jam him off the line and not let him use his speed to get by. The real thing we want to take from this clip is that Goodwin does a fantastic job off the line and makes a nice over-the-shoulder catch.
Last clip is Richard Sherman doing what he does best, ruining a quarterback's day.
Stay tuned for my next film study piece that will drop shortly after the 49ers' first preseason game on August 9. I will break down a few of my favorite plays from the game and discuss why certain plays worked and why certain plays did not work. Football season is here; we survived the off-season.
---
You can follow Jay on Twitter here!
Stay tuned to 49ersHub for more great content!