Just How Valuable is Jared Goff For The Rams Offense?
112 of 205 passes were completed for a 54.6 completion percentage for 1,089 yards, five touchdowns, seven interceptions, and a 63.6 passer rating.
Those were the numbers Rams quarterback Jared Goff posted in seven starts as a rookie in 2016.
The number one pick from that year's draft, Goff's season was unanimously panned and he was deemed a bust at the time. And indeed, Goff was playing horrendous football. His accuracy was terrible, he showed zero poise inside the pocket, could not diagnose what secondaries were giving him, could not diagnose blitzes, and looked more like an undrafted rookie than a first round pick, let alone the number one pick.
Of course, Goff alone was not to blame for the Rams' failure of a season, where they went 4-12 (0-7 in games started by Goff). The offensive line was a train wreck, the receiving corps was bad (outside of Kenny Britt before he became a free agent bust in Cleveland), and the scheme set up by Jeff "Mr. 7-9" Fisher was ridiculously limited, and that, along with the offensive line, destroyed any impact Todd Gurley had at creating yards.
Miraculously, Jeff Fisher was fired a week after signing a 2-year contract extension, and the Rams signed Washington Redskins offensive coordinator Sean McVay to replace him. McVay, as you may know, was the youngest hired head coach in (modern) NFL history at the age of 30, and like Goff, he was under pressure to get things going for the Rams in his first season.
McVay set out to create an offense that would simplify the tasks demanded for a quarterback like Goff while also looking to cater to his strengths. To do that, the Rams hit home runs in the offseason, signing Bills receiver Robert Woods, Vikings and Redskins center John Sullivan, and Bengals left tackle Andrew Whitworth, while drafting tight end Gerald Everett in the second round and receiver Cooper Kupp in the third round of that year's draft. The big addition, receiver Sammy Watkins, was received in a trade from the Bills in exchange for cornerback E.J. Gaines.
With these additions in place, McVay had the perfect offense to run essentially a West Coast Offense without even coaching a game. The Rams had receivers that could win against both man and zone coverage and an offensive line that boosted in athleticism from the season prior, allowing the team to give their quarterback an incredible supporting cast.
296 of 477 passes were completed for a 62.1 completion percentage for 3,804 yards, 28 touchdowns, seven interceptions, and a 100.5 passer rating.
Those were the numbers Jared Goff put up in his sophomore season.
Sean McVay did the unthinkable and not only turned Goff's career around, but he also transformed the Rams from the league's worst scoring offense in 2016 to the league's absolute best in 2017.
McVay also had a monster impact on Todd Gurley's third season in the NFL. In 2016, Gurley had 885 yards on 278 carries (3.2 yards per carry) along with six rushing touchdowns. With Jeff Fisher eliminated in 2017, Gurley had 1,305 yards on 279 carries (4.7 yards per carry) to go along with 13 rushing touchdowns. As a receiver, Gurley went from 43 receptions for 327 yards and zero touchdowns to 64 receptions for 788 yards and six receiving touchdowns.
Gurley's massive third season became the blueprint of the Rams offense, as well as the core of what made Jared Goff's job that much easier. By enhancing Gurley's usage by giving him all sorts of formations and responsibilities, Sean McVay allowed Goff to attack defenses in a number of ways that Jeff Fisher would not have let him see. Then that in turn made the Rams offense The Greatest Show on Turf once again.
With that said, how important is Jared Goff's role in the Rams offense? Generally, people talk about how the Rams offense carries the quarterback, instead of teams like New Orleans, Green Bay, Seattle, or New England where the opposite is true. And yeah, Goff had one of the easiest roles of any quarterback in 2017.
Anyway, let's take a look at how valuable Goff is to the Rams.
I previously mentioned how McVay's vision for the Rams offense was to simplify it enough so that Goff could feel comfortable and cater to his strengths, while also expanding the play calling possibilities to give the scheme a more modernized feel. And all season long, it looked that way.
The Rams offense under McVay have deployed a zone blocking heavy offense. In this scheme, sharper footwork and athleticism take the stage (as opposed to strength in a more traditional blocking scheme) and the line moves in unison to the left or right on the line of scrimmage. This is done in order to give the running back bigger gaps to run through.
As you may have guessed, McVay combines the zone blocking scheme with play action in a way that makes it hard for defenses to see if Gurley or Goff becomes the focal point of the play. And being the genius that he is, McVay has been able to get creative with this sort of scheme.
On this play against the Eagles (using a Cover 1 scheme), McVay deploys the zone blocking scheme and play action. An end around fake is also put in to further bait the pass rush. Cooper Kupp and Sammy Watkins are both used to spread the secondary, helping set up the dump off to Todd Gurley, who suddenly has loads of room following the series of events.
Goff's role here is to make the safe, yet deadly throw. What McVay does here is minimize the impact his quarterback needs to have on the play while maximizing the success of said play. And to do this against one of the better defenses in football in the Eagles is quite impressive.
McVay understands that Goff is typically at his best when getting rid of the ball quickly, so he'll set Goff up with play calls (and audibles if he sees anything suspicious) to match defensive schemes such as the blitz above. Again, the Rams combine the zone blocking scheme with play action, but this time, Gurley is not the main attack.
The Titans deploy a cover 1 defense using an extra blitzer on the left side of the line of scrimmage. The outside of the field deploys man coverage while the middle employs zone. Goff is given a clean, but limited pocket to throw the ball inside of, but McVay's call and route combinations beat the blitz, as Sammy Watkins is left wide open for Goff to fire him an accurate pass for the first down.
In 2017, Goff was very effective firing against zone coverage. With less time to hold onto the ball and more time spent by McVay on getting his weapons open, Goff was able to help set up explosive play after explosive play inside the structure of the offense.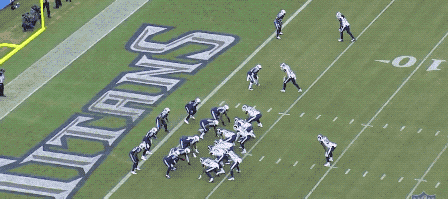 In 2017, Goff threw 23 touchdowns and zero interceptions inside the red zone; His touchdown passes here ranked third highest on the season behind Tom Brady (26) and Carson Wentz (24).
As you have probably figured out, Sean McVay's ability to scheme up plays where he could get the ball out of Goff's hands as quickly as possible is a big reason for Goff's success inside the red zone. Here, McVay deploys the double slant concept, which is something that he does a lot in this area of the field.
The defense thinks the Rams are calling a run play to Gurley or play action passing, so they crowd nine defenders in the box. In actuality, Goff executes a 2-step drop, catching all nine defenders off guard as he sets his eyes outside. The defensive back on Watkins outside is playing on him as if he's expecting a fade route, which is why Watkins is able to get inside leverage.
With both the outside and slot receivers running parallel slant routes, that gives Watkins the space he needs for Goff to fire an easy touchdown pass.
These are only a few of the many, many, many instances that Sean McVay revealed his genius as a play caller in 2017, giving Goff easily defined reads that rarely allowed him to make difficult plays and instead offering friendly route combinations and blocking formations that gave the third-year quarterback that much more time to breath.
Now, you might be asking if Goff is able to make the more difficult plays when he's asked to. To a degree, yes he can.
Inside the red zone, Goff is actually one of the more patient pocket passers in the league, and this also chalks up to his success in the red zone last year.
At the top of his drop on this play, Goff is afforded a clean pocket. His initial read is not open, so he quickly surveys the field and progresses through his reads. As he feels the edge rusher's presence, Goff climbs up the pocket and keeps his eyes downfield. Eventually, a receiver is able to get open as Goff fires the touchdown, one of many that were scored against the Giants defense that day.
Incredibly, the Goff performance that impressed me the most also happened to be the biggest game of his career in last year's Wild Card matchup against the Falcons. While the Falcons defense had an excellent game plan by eliminating the threat of Todd Gurley as a receiver (limiting him to four receptions for 10 yards), Goff managed to make a number of difficult plays at a level he wasn't expected to play at because he was generally catering to the structure of the plays in the regular season.
Goff's pocket movement in particular impressed me. Try telling me in 2016 that Goff would side step edge pressure like vintage Carson Palmer without flinching and threading the needle with an absolute beauty (also like vintage Carson Palmer). This is the best throw I've seen Goff make. Is it because of McVay's influence that Goff was this confident? Probably. Will we be able to see more of this in the future? I'm hoping so.
So, Goff is not a bottom league starter like he was after his rookie season, but he's still a flawed quarterback that has several things to clean up in order to earn a second contract with the Rams.
As The 2017-18 Deep Ball Project found, Jared Goff was the 20th most accurate passer (out of 35 qualifying quarterbacks) on throws of 16+ air yards. Not terrible, but definitely far from great.
Goff's troubles with downfield accuracy in 2017 had a negative impact on Sammy Watkins' sole season in LA. On throws of 16+ air yards to Watkins, Goff was only accurate on six of 20 such passes. That's a 30.0 accuracy percentage, which clearly is not good. Combined with McVay preferring Watkins be used to clear space for other weapons on the field, and the now Kansas City Chief's stats made him look worse than he actually was.
Inside McVay's scheme, Goff generally makes the correct reads and decisions, but when asked to make more difficult plays, he tends to show his struggles. He's a quarterback that, outside the red zone, tends to panic when his first read isn't open (Although to his credit, he's managed to reduce that rate in his sophomore season). He doesn't have the arm talent of a guy like Matthew Stafford or Russell Wilson either, so the timing of his passes can be a little off despite being the correct decisions.
Lastly, Goff had eight fumbles last year, including one in the postseason. On a few of these, he ran himself into a sack, showing jittery footwork when his first read wasn't open. It's not a deal breaker if he doesn't improve his handle on the football, although it would probably save a few more drives for the Rams if he did.
To conclude, Jared Goff at this stage of his career is essentially a game manager. But don't take this the wrong way. Game managers are generally frowned upon in the world of football, but you can argue a quarterback is extremely valuable when he minimizes the mistakes, which helps a loaded roster. Goff in his second season has been lifted up by strong coaching and skill players, but for the most part, he's been able to make good use of them by making the right reads without compromising the result of the play to the degree he did in his rookie season.
Is he a guy as valuable as Aaron Rodgers, Tom Brady, Russell Wilson? No, and I don't know if he will ever be. But Jared Goff's decision making is quicker and a little more polished, and with a great offensive mind in Sean McVay, he'll be afforded all the time he needs to develop and clean up his flaws.
The arrow is heading up for the Rams, and Jared Goff could very well remain part of that journey.
---
You can follow John on Twitter here!
Stay tuned tp 49ersHub for more great content!