Fireworks Are Going to Fly in DeForest Buckner's Third Season
DeForest Buckner is due for a monster third season
DeForest Buckner is arguably the best player on the 49ers' defense. In his sophomore season, 2017, the defensive tackle out of Oregon had 45 tackles (16 assisted), five pass disruptions, 3.0 sacks, and one forced fumble.
As the frontman of a rebuilding defense, Buckner is one of the top young defensive tackles in the National Football League. He has paid dividends for San Francisco in his first two seasons in the league after being selected in the top 10 of the 2016 NFL Draft.
This article will look at a film breakdown at several of the plays Buckner made in 2017. It seemed like his presence was felt in every matchup the 49ers had, even when the team results weren't pretty. So, with that said, let's take a look at a sample of DeForest Buckner's 2017 film.
Several analysts have noted how quick off the snap Buckner is for a defensive tackle, and they'll get no argument here. Indeed, Buckner's quickness on this play and many others resembles a defensive tackle version of Everson Griffen in terms of timing.
Buckner matches that timing with impressive athleticism. He instantly pushes off his left foot after his first step, swats the left guard's hands out of his way and charges up the A-gap, chasing Jacoby Brissett down for a sack.
What stands out to me is how he'll often "glide" to or past a defender to give himself a better position to cause pressure, and he executes it really well. Here, he once again provides great timing on the snap, pushes off his left foot to get outside the left guard. Next, he proceeds to attack high, overwhelming the guard enough to open a large hole in the B-gap. He breaks free and provides pressure and the quarterback hit on Kirk Cousins.
Buckner's near flawless timing greatly enhances an already dangerous skill set. Think of it as his bread and butter, putting him in a position where he can use his moves to endanger his opponents.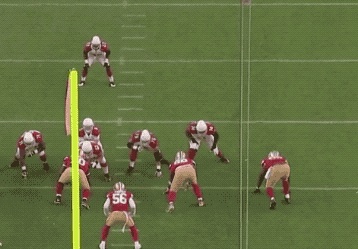 A testament to his versatility, Buckner is also extremely effective on the stunt. Here, the Cardinals offensive line double teams the defensive front, but Buckner's stunt allows him to cut by. Here, he pushes off his left foot and accelerates, using his deadly glide move, moves his hands above the left tackle, and wins the battle. He gets the edge and completely alters the pass with another quarterback hit.
This is perhaps my favorite play from Buckner. He pushes the left guard back and creates momentum, as the guard can't get both of his hands on #99. With the leverage now on his side, Buckner uses his massive arms to stretch out and swat Dak Prescott's throw. Buckner's wingspan allow him to make all kinds of improbable plays, and like his play against the snaps, the timing is perfect.
This is only a handful of DeForest Buckner's incredible film. He's a monster athlete with swift movement, refined technique, power, length, versatility, great timing, intelligence, and aggressive hands. The 49ers hit a home run when they drafted Buckner, and the third-year defensive tackle is due for an All-Pro caliber year in 2018.
---
You can follow Johnny on Twitter here!
Stay tuned to 49ersHub for more great content!