Expect the 49ers to have one of the best backfields in 2018
The 49ers' 2018 season is highly anticipated, with brand new faces and sophomore players coming in to gel and develop. The hope is that San Francisco will break through and earn a postseason trip for the first time since 2013.
To help accomplish their quest as a playoff contender, the 49ers went through a few changes during the offseason, including one to strengthen the backfield. The Niners signed former Minnesota Vikings running back Jerick McKinnon to a lucrative four-year, $30 million contract. The previous year, they signed free agent fullback Kyle Juszczyk to a four-year, $21 million contract, making him the highest paid fullback in NFL history.
After the 2017 season, free agent back Carlos Hyde signed a three-year, $15.2 million contract with the Cleveland Browns, leaving the main backfield to consist of McKinnon, Juszczyk, and sophomore back Matt Breida.
Orchestrating this backfield is second-year head coach Kyle Shanahan. In 2016, Shanahan possessed an Atlanta Falcons backfield with Devonta Freeman and Tevin Coleman combining for 2,522 yards from scrimmage. In 2017, after he left, that same duo combined for just 2,109 yards from scrimmage. That's not a knock on Freeman or Coleman by any means, but rather it displays the impact that Shanahan's play calling has on the backfield.
With a young, rebuilding team in 2017, Shanahan did not inherit a dominant veteran backfield, but he was able to maximize what he was given. In Carlos Hyde's first three seasons, he had 50 receptions for 284 yards. In his final season in San Francisco, under Shanahan, Hyde caught 59 receptions for 350 yards. He experienced career highs in rushing touchdowns (8) and yards from scrimmage (1,288).
While Hyde started only 20 games before 2017, he was able to play to his full potential under Shanahan. And that's what 49ers fans can look forward to with this new-look backfield heading into the 2018 season.
In 2017, Jerick McKinnon had a career high 991 yards from scrimmage, while Matt Brieda had 645 yards from scrimmage in his rookie season. Kyle Juszczyk had 346 yards from scrimmage in his first season in San Francisco, not a bad number for a fullback.
So, from a numbers perspective, this group doesn't look impressive. The only other options at back are special teams standout Raheem Mostert, former Tampa Bay Buccaneers fifth-round pick Jeremy McNichols (who was waived before his rookie season could even start), and sophomore back Joe Williams, who missed all of his rookie season with an ankle injury.
However, Kyle Shanahan has had a reputation of taking a player nobody wanted and maximizing that player's skill set to make him look like a playmaking monster.
Take Taylor Gabriel, for example. After his release by Cleveland (where Shanahan was the offensive coordinator back in 2014), Shanahan reunited with Gabriel by recruiting him to Atlanta. There, Shanahan's scheme helped make Gabriel a dangerous threat on vertical routes and on short field plays where he could load up on yards after the catch.
49ers receiver Marquise Goodwin is another example. In his four seasons in Buffalo, Goodwin put up 49 receptions for 780 yards. Last year with San Francisco, Goodwin caught 56 passes for 962 yards, helping him land a three-year contract extension with the 49ers in March.
So, while the 49ers backfield isn't the most absurdly talented group you'll ever see, Shanahan has shown he understands how to put his players in situations where they are at their most comfortable, and history suggests he'll do the exact same thing with McKinnon, Breida, and Juszczyk.
This column will take a look at each of the three aforementioned players, as well as how Shanahan can maximize the potential of the backfield.
Jerick McKinnon
The 49ers' prized free agent (on offense anyway) is first up. Though he's never had monster numbers, Jerick McKinnon is valued by Shanahan because of his athleticism out of the backfield.
Both of these plays (against the Panthers) highlight McKinnon's nimbleness as well as his ability to change direction. He's always been a good back in Minnesota, but never had a competent offensive line until last year. His nickname is "Jet" because of his speed, but I think he should be more known for his quickness as a runner.
As a receiver, McKinnon experienced two big games. His first was against the Bengals in Week 15 where he caught seven receptions for 114 yards, and his second was in the NFC Championship Game against the Eagles where he caught 11 receptions for 86 yards. In total, he finished 12th in receiving yards amongst all backs in 2017 (421), and you can expect that to rise in San Francisco.
Kyle Juszczyk
While the 49ers clearly overpaid to get Kyle Juszczyk, they weren't doing it just to get a supreme blocker, but rather they were paying a versatile player that could impact the offense in a number of ways most fullbacks can't.
Juszczyk's quickness out of the backfield (GIF #1) makes him a valuable receiving back, and he's arguably the most complete fullback in football. He can stretch the chains on any given receiving play and stretch the field on vertical routes as well. Because of his speed (GIF #2) and ability in tight coverage, Shanahan sometimes uses Juszczyk on wheel routes, where he has shown he is a natural pass catcher with the toughness to succeed at the catch point.
This is what makes Juszczyk valuable: he can run, block, catch, and stretch the field as a receiver. Because of his diverse skill set as a fullback, that gives defenses one more option in the backfield to worry about, which helps get other players open. San Francisco paid a steep price to get their prized fullback, but if his skill set is of any indication, it's a price worth paying.
Matt Breida
Reuniting with his former Georgia Southern teammate in McKinnon, Matt Breida is going into his sophomore season after putting up decent numbers for the standards of an undrafted rookie. He had 105 rushes for 465 yards and two touchdowns, while also catching 21 passes for 180 yards and a touchdown.
Breida is expected to be the second option to McKinnon now that Carlos Hyde is in Cleveland, and while his skill set to this point isn't terrific, he's more than consistent enough where he can be used as a dangerous option in Shanahan's offense.
Breida's vision as a runner is quite good. As shown here, he is patient and allows holes to open up while providing quality cuts from time to time. He's also able to move behind his linemen to draw defenders off guard thanks to said vision. Like McKinnon, Breida also works well in changing direction, making him a solid backup to McKinnon.
As a receiver, Breida provides additional value with his speed. In Shanahan's offense, there's not an overwhelming amount of pressure for backs to make something happen on their own, as the scheme usually gets them open so that they can focus on speed and less on eluding tackles in desperation. Breida's touchdown against the Eagles is a perfect example of that.
While the actual players in the backfield don't sound like a group that can compare to Mark Ingram and Alvin Kamara, it's the speed of these three backs, combined with the scheme of Kyle Shanahan that makes the unit so enticing. Just to get an idea on how Shanahan will use the 49ers' backfield, let's take a look at what I consider his finest game-plan: the Week 5 game against the Denver Broncos in 2016.
The Falcons were riding a three-game winning streak at the time, while the Broncos, the defending Super Bowl champions, were off to a 4-0 start. Denver was known for having the best defense in the league up to that point, so Shanahan had a tall task against him going on the road.
Receiver Julio Jones was limited to two catches for 29 yards. In fact, all of Atlanta's receivers and tight ends were limited to just 87 yards. But that was part of the plan, as Shanahan focused the offensive game plan on Devonta Freeman and Tevin Coleman. The two backs shredded the Broncos defense, combining for 286 yards from scrimmage and two touchdowns.
Shanahan understood that while the Broncos' defense was intimidating, they had a weakness at linebacker. Shanahan exploited this weakness by finding all sorts of ways to get Coleman and Freeman open, and Coleman in particular had a huge day as a receiver with 132 yards and a touchdown.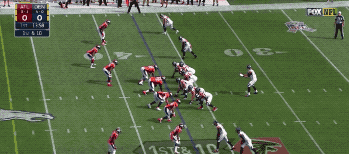 Shanahan is known for running a West Coast Offense where the goal is taking away the player's impact on the play in favor of scheming him open with mismatches abound. That's why the second-year head coach values the speed of McKinnon, Juszczyk and Breida so much: he needs players with the speed while his scheme does the rest.
It also helps that Coleman is a freak back. Here, Shanahan moves Coleman in the slot, while the tight end on his left runs his route with him. The tight end is running a simple go route up the field, but in actuality it makes for a perfect play call against the zone defense inside. With the two backs occupied on covering the spot, Coleman runs a shallow crossing route.
Because the tight end's route in combination with the surprise timing of Coleman's route occurs, Coleman is left virtually uncovered, picking up an easy first down while using his speed to pick up a lot more.
Later in the game, Shanahan would further exploit Denver's weakness at linebacker by having Coleman run vertical routes. On the first play, Coleman simply murders the linebacker with his speed, scoring the touchdown on second-and-19 without any challenge. On the second play, the outside receiver stops on his route, driving the defensive back away from Coleman's route (where, again, he shreds the defender guarding him). This gives quarterback Matt Ryan a wide open Coleman downfield, and the result is a massive play that easily covers the first down and then some.
The Falcons were able to shred opponents with their backfield all season long, but nowhere was it as prominent as in Week 5 at Denver. The combination of Freeman and Coleman helped Atlanta secure a 23-16 upset victory on the road.
This is what 49ers fans can expect Shanahan to bring to the backfield in 2018. Jerick McKinnon, Kyle Juszczyk and Matt Breida are all capable runners and receivers, and all three players each have their own unique skill sets that set them apart and will allow the 49ers to run a diverse game-plan in the backfield.
The 49ers also have a young, up-and-coming receiving corps that'll help provide more options to help the backfield get open. Trading for and signing one of the quickest processing quarterbacks in Jimmy Garoppolo makes him a perfect fit for the West Coast Offense that Shanahan runs, so the team will have playmakers all around.
With McKinnon, Juszczyk and Breida able to be on the field at any given time and with the expert scheme Kyle Shanahan runs, there's no doubt we should see a much more efficient and explosive 49ers backfield this upcoming season.
---
You can follow Johnny on Twitter here!
Stay tuned to 49ersHub for more great content!