What to Make of Mitch Trubisky
Every year it feels as if we have an under-the-radar prospect shooting up NFL Draft boards, and getting taken higher than they should be taken. Could Mitch Trubisky be a Carson Wentz type prospect at the next level? Or will Mitch be like Blake Bortles? Well, lets start at the beginning. Mitch Trubisky burst on to the NFL scene this season at North Carolina, a Ohio native and who is also one year older than DeShaun Watson. As a first year starter, Trubisky threw for 3,748 yards, 30 TDs and 6 interceptions. He dazzled NCAA fans with his calmness in the pocket and his pin-point accuracy. With all that considered, is Mitch Trubisky better than DeShaun Watson or DeShone Kizer? What should we make of him?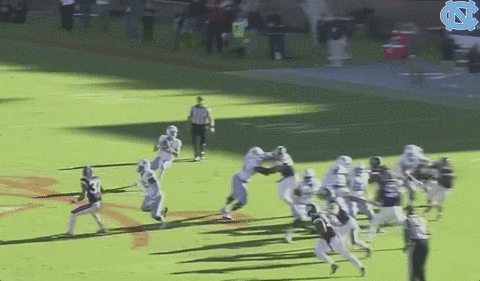 As stated previously, Trubisky excels as a pocket passer who does damage in the short to intermediate game. He is extremely accurate, having a completion percentage of 68.0%. Standing at 6'3" and weighing just around 220 lbs, he has the ideal frame you look for in NFL QBs. He stands tall, keeps his eyes down field, goes through his reads (some times very dramatically) and will find his guy. On terms of athleticism, he can beat you with his feet with sneaky athleticism.
Things get a little shaky, though, when it comes to his mechanics. Footwork is quite messy at times. He will throw with his foot parallel to the offensive line, which leads to him throwing across his body and decreasing the velocity and accuracy on his throws. He doesn't feel pressure well and often throws with a bad center of gravity when pressured. He can lock on to reads and allow defenders to make a break on his throws. Some of these things can be fixed over time, but other things will take intense coaching. While he excels in making the short/intermediate throws, I question his arm strength in making the deep passes with the same accuracy he shows in the 10-15 yard range.
Though I do not think Trubisky is going to be a bad QB, I do not think his value warrants a top 15 pick. A team that picks him needs draft him with a plan in mind. There are far too many question marks surrounding him that, though he could be really good, he could also end up being a pick that one team may regret. Mitch has plenty of promise, however I had him as a back end 1st round pick. I see him as a game manager type of quarterback at the next level. I don't see him killing you on Sundays, but I don't see him being the reason you lose games.